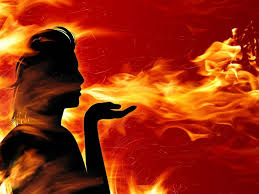 In mythology, Mars was the Roman god of war and second only to Jupiter in the Roman pantheon. Similar to the Greek god of war Ares, Mars, was seen as a protector of Rome and the Roman way of life and as a defender of city borders and frontiers.
The planet Mars takes approximately two years to orbit the Sun and spends on average about 6 weeks in each sign of the zodiac.  Mars moved into the sign of his rulership Aries on 27 June 2020 where he will stay until 6 January 2021.  The unusual thing about Mars' journey through Aries in 2020 is that he will spend 6 months here due to a 'long stay' retrograde period from 10 September to 14 November.  When retrograde, Mars is at his closest to Earth and his energy is felt more powerfully.
Astrologically Mars symbolises passion, drive, energy, self assertion and describes how you go about getting what you want.  Essentially it stands for the individual will and conflict can arise where individual wills differ.  Mars can then show how we attack and defend, compete, win and how we express and deal with anger.  It is raw energy associated with action, primal desires, aggression, anger and survival.
With warrior Mars at his most powerful in a long stay in his home sign, we may experience this personally as an impetus to take action, to forge ahead, to assert and stand up for ourselves and to make our wants known.  With Mars in retrograde this may manifest as impatience and tempers may flare as we find ourselves on a short fuse.  We might feel frustrated in our attempts to move forward.  We may enter into conflict with ourselves or with others as we attempt to express our individual will and personal authority.  Check which house in your personal chart is being activated by Mars in Aries here.
Collectively we are already seeing world leaders attempting to stamp their authority, protecting their borders and boundaries as Mars protected and defended Rome.  We are experiencing blame games between countries and mounting tensions internationally between major world powers.  This has the potential to be explosive especially against the backdrop of the planets in Capricorn which are being triggered (squared) by Mars as he journeys through Aries, as well as by his conjunction with his mythological sister Eris (Goddess of Strife and Discord), also in Aries.
Squares (90 degree angles) symbolise tension and crisis.  Key dates are
Mars in Aries square Jupiter in Capricorn
4 Aug 2020, 19 Oct 2020
Potential exaggerated actions and reactions, risk of hasty actions
Mars in Aries Square Saturn in Capricorn
25 Aug 2020, 30 Sep 2020
Power of the individual confronts the power of the traditional structures of society, government and business
Mars in Aries Square Pluto in Capricorn
13 Aug 2020, 9 Oct 2020, 24 Dec 2020
Eruptive energy, brings hidden secrets to the surface, forcing transformation, breakdown of the old system in order to breakthrough to a new paradigm, revelations
Mars in Aries conjunct Eris in Aries
18 Aug 2020, 4 Oct 2020, 22 Dec 2020
Those who have been left out of the system, the disenfranchised, those who have not had a voice are energised to take action and demand to be seen and included.  Structures of society are challenged to be more inclusive and representative.
Mars in Aries at its highest expression is the hero energy present within all of us, a spiritual warrior connecting us with our sense of self, our inner power and leadership and providing the energy to express and assert this.  Mars retrograde energy turns the focus inward; as we delve into our inner world, meet our obstacles and fears, emerging more fully in personal power and individual authority so that we are able to offer leadership and contribution to the world.