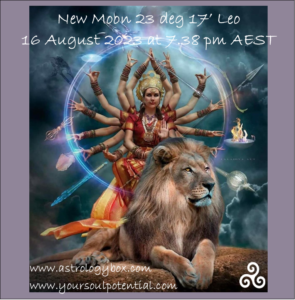 The new moon in fiery Leo coincides with Venus retrograde and the passage of Venus into the underworld as she moves from evening to morning star.  During this time, she becomes one with the Sun, ruler of Leo, and so the two are intimately connected.
Leo is about heart energy, where we shine and display our passions as we create from the heart.  As Leo's symbol is the Lion or King/Queen of the jungle, Leo is about rulership, leadership and sovereignty.  The new moon square Uranus encourages us to reclaim our sovereignty in our own unique way and to lead from the heart.
The retrograde cycle of Venus relates to the descent of Innana into the Underworld, ruled by her sister (or shadow) Ereshkigal. Along the way Inanna is stopped at seven gateways where she is stripped of a layer of clothing, representing the ego, identity, and attachments.  Here the underworld symbolises the Earth womb where, naked and vulnerable, we can reclaim lost, forgotten, denied, shamed, oppressed, and repressed parts of ourselves.  This process symbolises renewal and rebirth, but only after the journey back to the belly of the mother.
On a more everyday level, Venus retrograde activates relationship issues, including relationships with others, relationship with money and values and our relationship with ourselves, our self-worth.
Black Moon Lilith is also tightly conjunct the new moon, amplifying the feminine energy. BML symbolises the wild instinctive feminine, who stands up for what she believes in and owns her self-worth.
Sun, Moon, BML and Venus in Leo, all close to the fixed star Regulus or Heart of the Lion, conjure images of the fierce protectoress Durga riding her Lion, the Goddess of bravery and daring, who supports us to have the courage to live from the heart
For deeper insights, join our monthly online astro chat and meditation:  https://linktr.ee/yoursoulpotential