The New Moon in Pisces takes place on 13 March 2021 9.21pm AEDT at 23 deg 03' Pisces.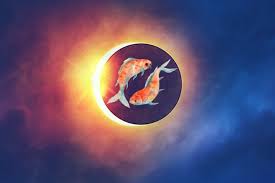 New Moons are a time for letting go, rest, reflection and renewal and this is particularly true under a Pisces New Moon. Pisces is the sign of compassion, introspection and a respite from everyday life.  Pisces connects us with other states of being, with creativity through the imagination and with the Divine through prayer and meditation.  It is a time of heightened sensitivity and intuitive knowing, of receiving insights through dreams, of healing for the self and others, self care and drawing inward for spiritual, emotional, and physical restoration.  Being the last sign of the zodiac, it is also about completion, closure and acceptance before a brand new cycle commences at the Aries equinox.
At this New Moon the Sun and the Moon are joined by Venus (Goddess of Love and Creativity) and Neptune (ruler of Pisces, God of the Ocean) conjunct at 19 and 20 deg Pisces. The Sun conjuncts Neptune a few days before the New Moon on 10 March which extends the influence of this energy.  Neptune is the dissolver of concrete reality and represents the urge for Divine merging, universal love and oneness.  As it knows no boundaries, it can also bring with it confusion, lethargy and overwhelm, so for these few days you may give yourself permission to go with the flow, not undertake anything physically strenuous and put off any important decisions until the fog lifts.
The astrological New Year starts with the passage of the Sun into Aries on 20th March at 8.38 pm AEDT. This is the spring equinox (equal day and night) in the northern hemisphere and signifies a resurgence of energy to start a new year afresh.
Discover more about this New Moon with Parvati Sundari and Janette in an informative and experiential group meditation.
Friday 12 March         7 – 8.30pm
Online via zoom – registration essential
Book here: https://www.trybooking.com/BOWPO