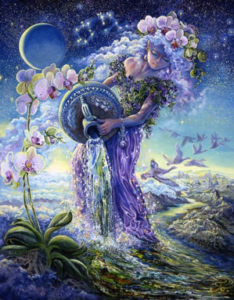 The Sun and the Moon are two great archetypes in astrology. The Sun symbolises our urge to shine in the world, to explore and express our unique essence; while the moon has a more instinctive and unconscious quality linked to our emotional and habitual reactions, our intuition and what we need to feel safe and secure.  The moon is reflective and regressive and is constantly changing (waxing & waning) like the tides.
In astrology a new moon happens each month when the moon and the sun join together in the sky, at which time the moon is invisible to us on Earth. For many Pagans and in the Wiccan tradition this is known as a dark moon.  In both cases it represents a time for letting go, rest, reflection, renewal, and tending the fertile soil of the soul. It is a powerful time for inner yin processes and intention setting; before moving into action as the moon becomes visible in its waxing or growth phase.
The Aquarius New Moon takes place on 12 February 2021 06.05 am AEDT at 23deg 16'. At this time there will be a host of planets joining the Sun and the Moon in this sign – Saturn, Jupiter, Mercury and Venus as well as the asteroids Pallas Athene and Chariklo – a collection of planets in Aquarius not seen since the early 1960s.  This emphasises Aquarian themes of community, group, social justice and civil rights, equality, freedom, liberation and revolution.  Aquarius wants to disrupt the status quo and usher in new levels of consciousness supporting expanded and more connected ways of being.  It is innovative and idealistic.
As an air sign Aquarius is concerned with the intellect and the mind; and this is further highlighted by Mercury in retrograde encouraging us to review our thinking, thought patterns and thought forms.  Futuristic ideas and visions for the future are emphasised by Mercury's trine aspect to the North Node in Gemini, related to our collective future.  Jupiter will expand this energy as it travels over the location of this new moon (23 deg 16' Aquarius) three times during 2021; highlighting the need to raise your level of thinking to a frequency aligned with what you would like to see manifested both for yourself and for society as a whole.
Uranus, Mars and Black Moon Lilith in the fixed sign of Taurus form a square to the fixed Aquarian planets, highlighting the link between thinking (air) and manifestation (earth).  The square aspect signifies tension so we can expect further disruption and protests as different groups clash over their entrenched points of view.  Uranus ruler of Aquarius disrupts and enlightens indicating the potential for shocking revelation, breakthroughs and quantum shifts of consciousness.
Discover more about this new moon with Parvati Sundari and Janette in an informative and experiential group meditation.
Thursday 11-February             7 – 8.30pm
Online via zoom – registration essential
Book here: https://www.trybooking.com/BOCGS