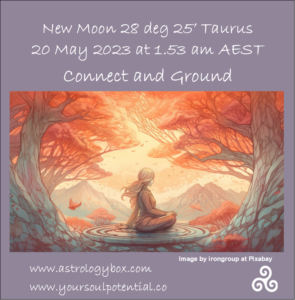 The energy of Taurus is one of connection with the earth, the stable, solid ground beneath us. Taurus is sensual, attuned to the physical body, to nature, to the material world and things that exist in physical form. Ruled by Venus it is also concerned with beauty, creativity, and values including how we value ourselves. With five planets in Taurus this sounds like a recipe for a cosy and relaxing time!
However, there are other complex dynamics at play. Jupiter has just entered Taurus and is forming an exact square or tense aspect with Pluto in Aquarius. Both are at 0 degrees of their sign, amplifying the impact.  This dynamic drives ambition, power and control issues, power plays combined with an intense desire to succeed. With Mars in the mix opposite Pluto, forming a T Square, there is capacity for intense activity, the energy to work towards your goals and achieve what you want.
Although success and achievement are possible, the integrity with which they are achieved is vital. The shadow aspects of greed, irresponsibility, aggression, ruthlessness and win at all costs come with consequences.
The missing point of the T Square is Scorpio, the key to stabilising this dynamic. Letting go but not giving in.  What attachments are you being required to let go of which may seem like a wrench but are ultimately freeing?
Uranus the planet of liberation continues its journey through Taurus and although not technically aspecting this new moon, cannot fail to influence.  Uranus teaches us about freedom. The heavens are showing us that the path to true freedom comes from letting go.
There are intense complex and challenging energies at play at this time.  Connect with the earth, come back into your body, ground, breathe, centre yourself and tune in to your internal sense of security and stability.  Your values and integrity will be your guiding light at this time.