New Moon in Aries & March Equinox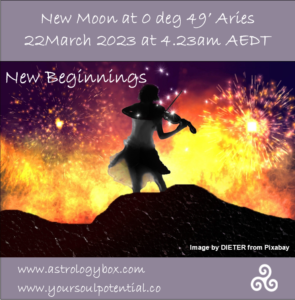 The March Equinox occurs when the Sun enters the sign of Aries; the first sign of the zodiac. It symbolises the start of the astrological new year as well as the turning of the seasons – the start of spring in the northern hemisphere and autumn in the southern hemisphere. Equinox means equal day and night and brings with it a sense of balance and equilibrium, a chance to pause, reconnect and ground yourself. Look at what is out of balance in your life and put energy into bringing this back into harmony and flow.
This Equinox is particularly powerful as it occurs less than 24 hours before the first of two Aries new moons.  The first is in the early hours of 22 March at 00 deg Aries 49' and the second is a Solar Eclipse on 20 April at 29 deg Aries 50' (Sydney times).  The Equinox and the new moons work together to amplify and supercharge the Aries energy.
Aries carries the archetype of the warrior and adventurer, forging new territory with courage and bravery.  Aries is the pioneer, the action orientated risk taker, often acting quickly and on impulse. Aries works independently and with autonomy.  With seven celestial bodies (including Vesta and Eris) in Aries and all major planets moving direct at this new moon, we can expect a rush of fresh energy to help us surge forward into a new chapter of our lives.  This will prepare us for the eclipse energy in April which will shed more light and reveal the bigger picture, both personally and collectively. This is the perfect time to set intentions and plant seeds for the future – take a risk, be adventurous!
The following day Pluto, the planet of power and transformation, enters Aquarius. The last time Pluto journeyed through Aquarius was between 1778 and 1798, a time of revolution and fundamental transformation of social and political structures.  Pluto excavates and reveals that which is out of integrity, both personally and collectively.  Pluto asks us to let go of distortion so that we may live in alignment with our highest good, heralding true empowerment. It carries the energy of rebirth, the phoenix rising from the ashes.
This combination of celestial energies is intense and powerful. It brings the opportunity to shed remnants of yourself which are not in alignment with your highest destiny.  Be brave, claim your sovereignty and start afresh!
For deeper insights, join our monthly online astro chat and meditation:  https://linktr.ee/yoursoulpotential