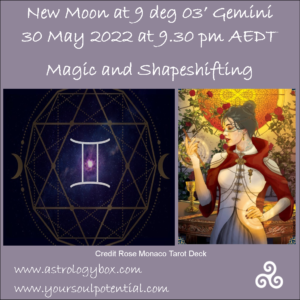 Discover more about this New Moon in an informative astro chat and experiential group meditation.
Monday 30 May  2022    7 – 8.30pm
Online via zoom – registration essential
Book here: https://www.trybooking.com/BZFVM
All events here:  https://linktr.ee/yoursoulpotential
The new moon in Gemini, hot on the heels of the total lunar eclipse, focuses our attention on the mind, our metal energy, our ways of thinking and communicating.  Gemini is like the bee pollinating and socialising ideas, news, and information.  A new moon in Gemini invites openness to new ideas and ways of thinking, especially in how we think about and talk to ourselves.  Where are we spending our metal energy and what is it creating for us?
At this new moon, Mercury the ruler of Gemini is highly aspected by all of the outer planets, foreshadowing a lift in collective thinking and consciousness.  Mercury symbolises the "lower" everyday mind which is being activated by Pluto, Neptune, Uranus and Saturn.
Pluto transforms and empowers our thinking and communication.  Neptune brings creativity, imagination, heightened intuition and psychic powers.  Uranus inspires, enlightens and liberates the everyday mind, opening it up to flashes of awareness and inner knowing.  Conjunct the North Node in Taurus, it opens up new ideas and ways of thinking about the earth, nature, finances and economic management for the collective.
Mercury is retrograde until 3 June helping us to rethink, review, revise and recharge our thinking. At 26 deg of Taurus, Mercury is on the degree of the recent lunar eclipse, echoing themes of this past eclipse.
Mercury is conjunct the fixed star Algol, part of the constellation of Perseus, said to be one of the most unfortunate, violent, and dangerous stars in the heavens, associated with the myth of the Gorgon Medusa beheaded by Perseus.  Perseus is associated with events affecting large numbers of people and Algol is also associated with genetics, mutation, and evolution – more variants of coronavirus, flu, monkeypox.
With such an emphasis on Mercury at this new moon, look of Mercury in your chart and tune into the archetypes of Tricksters, Magician, the Shapeshifter, the walker between the worlds in yourself.
Jupiter has recently crossed the World Axis at 0 deg Aries and will conjunct Mars the ruler of Aries the day before the new moon, expanding our sense of adventure, courage and warrior spirit.  This is the energy of initiating something new, a fresh perspective and exploring new territory either physically through travel as well mentally, energetically and spiritually.
Both Jupiter and Mars are conjunct the dwarf planet Manwe, husband of Varda, the 'Star Lady' who set the stars and the Sun and Moon in the heavens. Manwe is linked to the breath of the world, the highest intelligence of Divine Source, ruler of the winds and air. Together Manwe and Varda created the universe.  This new moon offers us the opportunity to create our universe afresh.