New Moon Solar Eclipse in Aries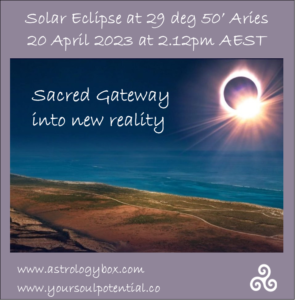 2023's second new moon in Aries or "blue moon" is a rare type of solar eclipse know as a hybrid, accounting for only 3% of all eclipses.  It suggests a powerful shift between states of being, a transition or transformation.
Eclipses belong to eclipse families know as Saros cycles and this one belongs to Saros Series 129 / 7 North.  This means the Sun and Moon are conjunct or close to the North Node, representing our future collective destiny: so a future orientated eclipse.
Astrologer Bernadette Brady describes Saros 129 as "A very sensual family of eclipses, ranging from sudden sexual passions and lust to birth and procreative drives. This series is not subtle and can catch people off guard and confront them with their own very deep passion which may have been hidden for many years."
As well as being a blue moon and a rare type of eclipse, this new moon is also at the 29th degree, the last or critical degree of a sign, in this case the sign of Aries.  This is an extreme position which can bring up shadow issues around that sign, such as anger, recklessness, impulsivity, ego driven behaviour and outbursts. It can also signal the highest conscious expression of the sign, such as courage, leadership, adventure, pioneering and forging new pathways.
Pluto, Lord of the Underworld, squaring Sun, Moon and the Nodes helps us to dive into our own personal underworld.  Sun, Moon conjunct Eris, Goddess of Discord and Chaos, challenges convention and upsets the status quo both collectively and personally. Eris shakes up our lives, break us free from our chains and sets us out on our unique creative paths.  Jupiter expands the fiery spark within us and opens us up to new possibilities and willingness to take risks.
Some indigenous cultures regard the time surrounding the eclipse as sacred, a time for self-reflection and to show respect for the Sun and the Moon.  It is a time of awe and reverence as the Sun is reborn.
As we show reverence for Sun, Moon and all of nature, we can tune into our deepest darkest passions and bring forth our creativity.  It's a rare opportunity to pierce the veils of consciousness, a sacred gateway into a new reality and new ways of being.