Full Moon in Libra April 2022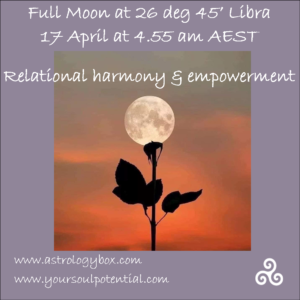 All events here:  https://linktr.ee/yoursoulpotential
Libra is the sign of balance, harmony, fairness and justice as well as concern for others.  Ruled by Venus, Libra is the diplomat who strives to achieve compromise, collaboration and win win outcomes.  Libra seeks to integrate a sense of balance and harmony with the assertive and often demanding energy of Aries.
The Sun and Moon, always opposite each other at a full moon, are both square to Pluto forming a T square. This is a tense aspect highlighting issues of power, abuses of power being further exposed, potential for emotional empowerment and ownership of personal power.  Pluto brings intensity connected to a sense of personal power and identify (the Sun) and the emotions (the Moon).
The Sun is close to Eris, goddess of strife and discord, as well as to the asteroid Pallas Athene, wise warrior goddess of wisdom, practical skills, and prudent warfare.
This suggests that the Moon in Libra has her work cut out in balancing this feisty energy. She is assisted by her proximity (conjunction) with the dwarf planet Haumea, the Hawaiian creator goddess of fertility and sustenance, bringing forward the potential for relational harmony between people and nations.  Her ruler Venus is exalted in Pisces and is joined by Mars (ruler of Aries) as well as Jupiter and Neptune still in a strong conjunction.
The full moon is a time for illumination and shedding light on matters which may have been hidden or not yet fully realised.  The Moon's connection with Haumea and the Piscean planets may help to illumine more compassion, kindness, and Hawaiian Aloha spirit, a greeting which means love and peace.