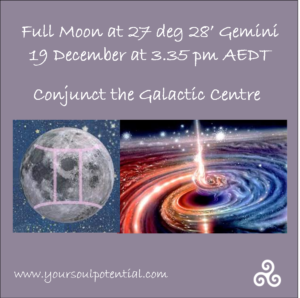 This full moon illuminates facts, figures and highlights logical analysis and perhaps brings to light information which may expose secrets or deception. With Mars in Sagittarius; belief systems, opinions and judgements are tested as the Moon in Gemini asks us to examine the data to reveal truths. This may be around the topics of illness, health and healing with Mercury in a square to Chiron. Perhaps some information could come out about Covid which changes our perception or belief? ⠀
⠀
At this full moon the Sun is in exactly the same location (conjunct) the Galactic centre at 27 deg Sagittarius. This is the rotational centre of the Milky Way galaxy and at its centre is a supermassive black hole that is both swallowing and giving birth to stars.⠀
⠀
To quote Philip Sedgwick: "The Galactic Center radiates brilliant insight to anyone connected with it. This insight craves implementation. This infrared information reveals how to let go of what is in⠀
the way to make a clear path for the next step. As soon as an idea is grasped and brought forward, the path of accessing new information refreshes. At all times, new and newer insights spew forth. This carries the tone of consciousness evolution."⠀
⠀
This full moon offers the opportunity to connect with a new level of cosmic energy and expanded consciousness.
Connect with all events here: https://linktr.ee/yoursoulpotential