Full Moon in Scorpio; Total Lunar Eclipse May 2022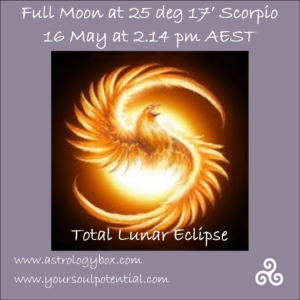 All events here:  https://linktr.ee/yoursoulpotential
Every full moon represents energy of illumination and of coming to fruition.  The Moon is fully illuminated as it reflects the light of the Sun.  This full moon is in the deeply transformative and emotionally intense sign of Scorpio, bringing powerful emotions to the surface for healing and transformation.  Scorpio represents cycles of death and rebirth, the energy of regeneration, of letting go so that something new can emerge.
The South Node conjunct the Moon creates a lunar eclipse, where the light of the Moon is temporarily obscured by the shadow of the Earth.  This represents an energetic portal with potential to reveal and transform our current emotional state. The South Node relates to the past, to habitual behaviour and karmic patterns.  This eclipse offers the opportunity to clear unhelpful and outdated ways of thinking and being.  There may be a letting go, an emotional purging followed by a sense of closure
Saturn, Lord of Karma, squares the Sun and the Moon (which are always opposite at a full moon) and by default the nodes, heightening the potential for karmic release and creating firm foundations for moving forward.
Pluto, ruler of Scorpio and Lord of the Underworld, trines the Sun and sextiles the Moon, intensifying this sense of release and creating a portal for embracing our personal power.
Neptune and Mars are conjunct and both trine the Moon and sextile the Sun, creating a spiritual context and potential for spiritual action.
Jupiter moved from Pisces, the last sign of the zodiac, to the first sign of Aries on 11 May.  At this eclipse Jupiter is at the powerful degree of 0 deg Aries, conjunct the world axis. Jupiter in Aries expands our warrior energy, our sense of adventure, courage and urge to explore and pioneer.  Now is the chance to put our dreams into action, whatever we dreamed big while Jupiter was in Pisces can now be initiated into action.  This is a new 12 years cycle of growth and expansion, supported by the transformative energy of the eclipse.
Mercury is in retrograde from 10 May until 3 June, supporting us to rethink, revitalise, reengage, renew and regenerate.